How To Stop Competing On Price
Stay in the loop. Subscribe to our YouTube Channel
Would you like to stop competing on price?
In this article you'll learn how to create an irresistible offer that will keep you from having to keep dropping your prices to compete. I am going to teach you how to create something called an offer stack.
So I'm going to give you the little example here. I bought this laptop maybe a year and a half ago, two years ago. It's a Mac book pro with the touch bar, and I probably paid 2200 dollars for it. I could probably sell it on eBay for maybe thousand bucks right now. But I'm going to show you how I could get $5000 or more for this used laptop.
Let's assume that you want to become DJ, okay? That's likely not you, but just humor me for a second and pretend that you were looking to start a DJ business and are on the hunt for equipment. And in your search, you stumble across this laptop right here that I'm selling. But this is no ordinary laptop, because on this laptop I have 80,000 songs. That's 379 gigabytes of music that I put on this laptop.
Now if you went to iTunes right now and wanted to buy all of these songs, it would cost you over $80,000 for that music. So if you're just getting started as a DJ, you're thinking, man, 80,000 songs, that would be incredible to have. There's suddenly a lot of value in that laptop.
I also have on the laptop, the starters kit to becoming a DJ. It's a training course to help you get set up for your first gig.  Then I have another course I bought on it as well. It shows you how to get your whole company set up in 30 days. And there's one more bonus that teaches you how to dominate your area as a DJ with social media.
So what you'd get is this:
80,000 of the best DJ songs that I use in my DJ business

Training course: How to book your first DJ gig

Training course: 30 day business set up for DJs

Training course: Social Media Domination for DJs
Let's say the total value is $100,000.
If this laptop truly had all of that on it, I can guarantee you that I could easily sell this laptop for $5,000 OR MORE. So that's an example of creating an offer versus just selling a product like an old laptop. Suddenly now that laptop actually has some amazing stuff on it.
So I want to show you another example that will help you to form your own offer stack.
I'll give you an example of one that I'm working on in my own business. But here's the thing, I was not always using this system. I was just selling a service, with each service offered solo with no added value. That makes it so hard just sell a service or a product without actually having an offer around it. So if you start doing this, it's gonna make a huge difference in your business. If you can implement this it will give you a serious competitive edge. Because how many businesses do you really know that are doing this? You'll dominate because you will be offering far more for the same price or slightly higher price.
So I'll just give you an example. And by the way, this is not a sales pitch. This is not my actual offer.
This just shows you an example of how to create your offer stack and stop competing on price.
So as you know, I own a digital marketing company and one of the things I do is I sell SEO. I sell SEO, or search engine optimization, for $795 per month. What SEO does is it gets your webpage ranked on Google, Yahoo and Bing. It gets you found online.
So just to sell that, I have to go through this whole pitch and why that's important. Something like this, "Imagine someone is searching for a house painter in your service area and now imagine that your website pops up in the top search results on Google. How would that transform your company?" They want to be on the front page of Google because they see the value in it, how it can make their phone ring, but maybe they are concerned about the monthly price.
So a customer searches, click on your website they found on Google, call you and you have business, right? That's how SEO works. And that's why it's so important in local businesses. For more on what SEO is, read "What is search engine optimization."
But the price for that service is all over the board. Some people sell it for $500 and some sell it for $1500. So who do you hire? It does typically take about 6 to 12 months to get ranked high on Google. So this is an investment and worth researching.
Now imagine you're researching and comparing companies and you see PinPoint Local of Franklin's SEO service for $795. Now what if I created an offer stack on this service?
So here's another example of an offer stack for a service business and how you could use that to stop competing on price.
One thing I could include when someone signs up for SEO is to set up their Google My Business page. If you aren't familiar with that it's a very powerful marketing weapon and its free! But the process to set it up can be confusing. So I'll set the whole thing up for you.
With a Google My Business page you can have your website linked to it and it's a place to get collect customer reviews. I would charge $197 for that set up.
The next thing I would offer you as part of this, if you do SEO I could help you get your website homepage content SEO friendly. Most webpages need help because you need a minimum of 350 words on your homepage just to get indexed and ranked in Google. And also most websites don't have the proper keywords or the proper structure. So I would redo all that for you at no additional cost. So if I was fix your content, fix the homepage content, and that's a lot of work by the way, it would cost quite a bit, if you could even find someone to do it because most web designers are not copywriters. I would normally charge $497 for that.
The other thing I'm going to do is I'm going to build your first funnel when you sign up for a Clickfunnels account through my link. If you don't know what a funnel is, they're awesome. Very powerful when it comes to presenting an offer. A funnel is basically where I would point the ad to this page. It would be a website with this offer specifically, because a confused buyer will take no action.
If you point a prospect to a webpage with only one offer there's a lot higher odds of converting them to paying clients.
So I would build your first funnel for you. I charge a minimum of $1000 for a funnel build out. But when you sign up for my SEO plan you get this for free. The funnel allows you to point people to your offer so you can start making money now.
And then the next thing I'm going to do is I'm going to offer coaching. In the coaching session I will help you craft your irresistible offer. You'll get monthly coaching calls for six months. We'll get on a Zoom call, so you can live anywhere and you don't need to take extra time away. So I will help you create your offer stack and I'll show you how to tweak your funnels.
That's a $5,000 value. That's what I charged for coaching.
So you get coaching, you get your first funnel, you get content, you get your Google My Business page, and you get SEO too! Look at all the other stuff you've got there. That's $6,700 and free stuff.
So then the last thing you want to do is every good offer has a guarantee. The guarantee is that if I don't get you ranked in a major search engine in the six months, I will refund every single penny of that SEO package, $795 x 6 months. I'll refund every single penny back to you. That's how confident I am that I can get your business ranked on page one.
I don't know about you, but that is an awesome offer! That's irresistible offer. So that's what you want to do. You want to create an irresistible offer for your business. So start thinking about how you can stack up different things and create an offer. Don't just sell something. Create an offer.
That's the art of an irresistible offer and how to stop competing on price.
So think about that. There are many other things you can do besides offer stacking, but that's one great example of how to stop competing on price. You homework now is to brainstorm and then I want you to post it in the comments below. Post your offer in comments and I'll take a look at it and I'll see you can't tweak it and help you with your offer. Okay? All right, I hope this gave you some good ideas. Don't forget to subscribe to my YouTube channel so you can learn more things like this on marketing for your small business.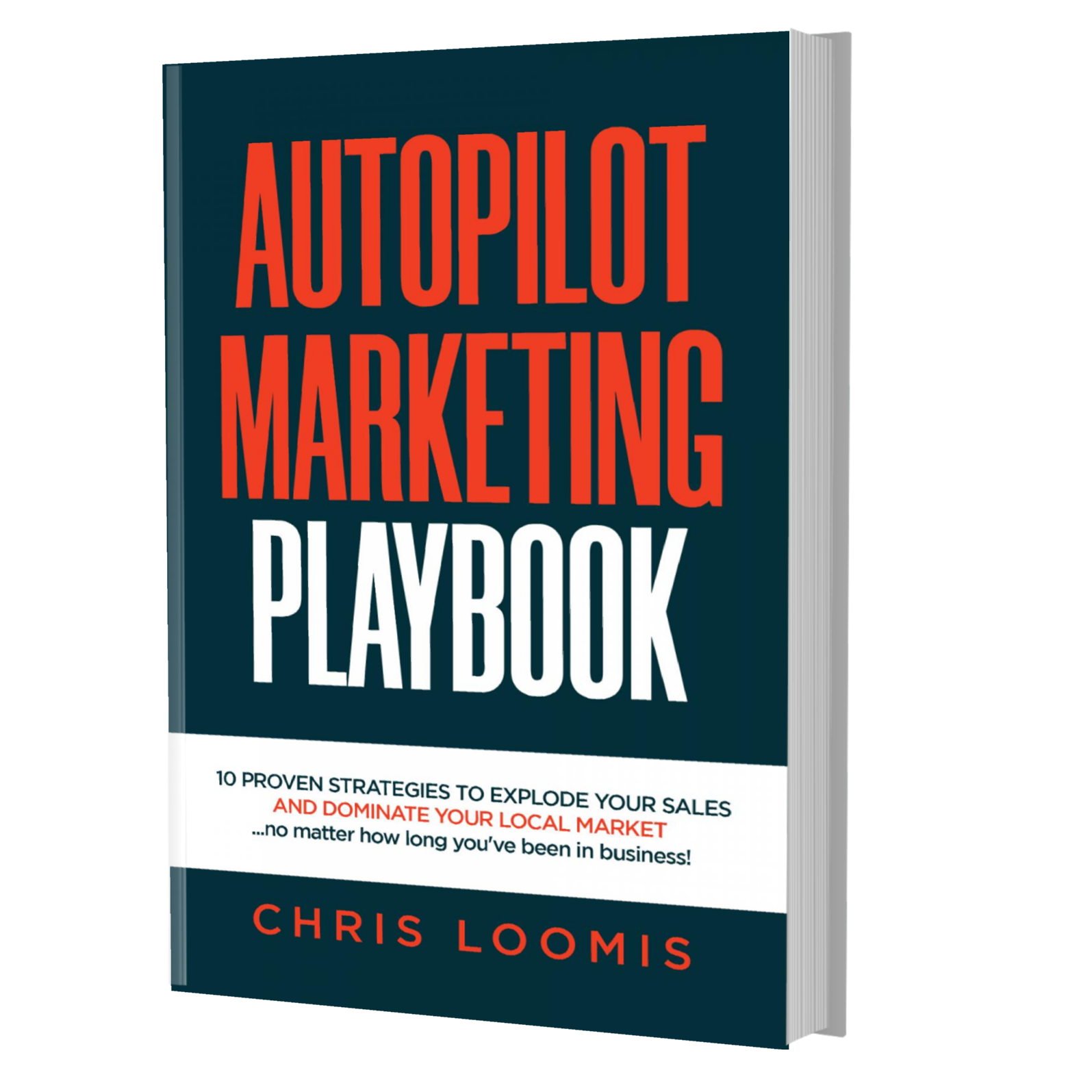 10 PROVEN STRATEGIES TO EXPLODE YOUR SALES
IN 6 MONTHS OR LESS!
FREE BOOK | Just Cover the Shipping!
Get it Before It's Gone!